OUTDOOR PIZZA OVENS
MADE IN THE UK
Outdoor Wood Fired Pizza Ovens
Live your best life with an Outdoor Pizza Oven range, made in the UK and shipped next day.
Our freestanding portable wood fired pizza ovens allow you to cook a 12" pizza in minutes in the freedom of your garden. We supply the pizza paddle to place your soon to be delicious pizza on too. When you've finished cooking your pizza, you can also remove the top and use it as a fire pit. Many of our customers even taking our pizza ovens camping.
Simply Metal gets glowing reviews on Amazon, Ebay and Etsy for our amazing quality UK Made Pizza Ovens.
Whether you are a budding pizza maker or a wood fired pizza oven professional, you'll love our pizza oven and accessories range.You don't need to worry about where you use it, 'Simply' place it on a patio, stone floor, or purchase our metal pizza oven stand and you will be up and running  in no time. Our pizza ovens should not be used on a wooden table top or decking without a stand or some protective cover for the wood due to the heat generated within the pizza oven base.
Our pizza ovens get so toasty and warm you can also remove the stainless-steel oven hood and 'Simply' use your pizza oven as a fire pit instead, keeping your guests warm all year round.
Your guests will be swooning with your wood fired pizza and the warmth of your entertainment and you bring together family & friends for BBQ's, fire pits, gatherings and parties.
A pizza oven makes an amazing gift too – I mean, what do you buy the person who already has everything? A Pizza Oven! If you would like to see any more of our gift ideas click here.
Our pizza ovens come fully assembled so that you can get to cooking on your new pizza oven straight away, whether making your own pizza masterpieces or cooking ready made pizzas to get that authentic pizza taste, you won't be disappointed with our products.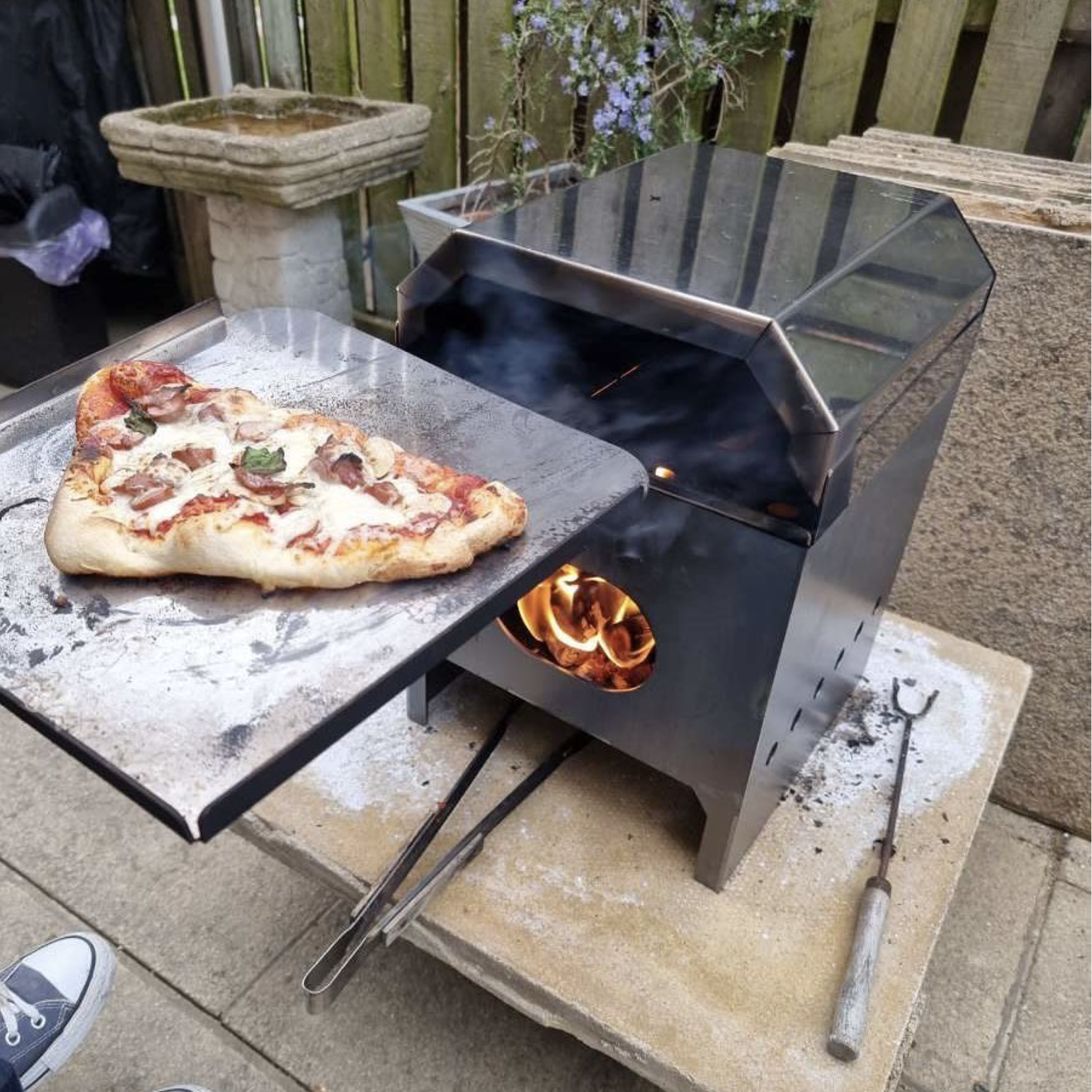 Make the most of your new pizza oven with our range of accessories and steel products. If you want to make the most of your pizza oven, take a look at some of our other Pizza Oven products.